Available as 50mmx50mm size in 3m or 4.5m lengths,
with a complete range of accessories.
The lighting trunking lid push fits and clips into the mouth
of the trunking section and is available in steel or plastic.
SPECIFICATION
British Standard Complies with EN 50085-1-2-2006.
Material…………… Hot dipped zinc coated steel strip to BS EN 10346:2009
Finish……………… Galvanised to DX51-ZG275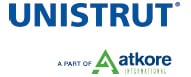 A FULL COMPLEMENT OF LIGHTING TRUNKING BENDS AND ACCESSORIES ARE AVAILABLE TO SUPPORT THE RANGE INCLUDING:
Bends 90deg, Tees, Hanging brackets, Flanges, Blank Ends and Earth links.
Note – Bends and Tees are available in different lid options:
Top lid, Inside lid or Outside lid, options must be selected at time of order.







Full technical datasheets are available on request.