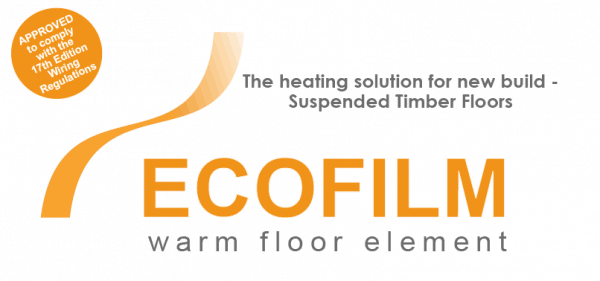 ECOFILM Warm Floor Element is a unique system that is installed under the floor, between the timber joists to provide either primary or supplimentary heat in new build projects. To achieve the optimal results, insulation must be installed below the heating element. The result is a warm, dry floor which is maintenance free.
ECOFILM heating element for this type of wooden floor application should have a maximum heating effect of 90W/m2. The floor temperature should be controlled by a suitable thermostat with a remote sensor and must be used to limit the floor temperature to a maximum 27oC.
Particle chipboard flooring is recommended for installation over ECOFILM elements.
ECOFILM is available in 3 widths; 300, 400 and 600mm to match joist centres. The product is perforated along the 50mm clear selvage edge. This allows the border to be bent to a 90o angle to allow attachment to the joist when installing. Maintain a 40mm space between the perforation and the top edge of the joist. The element should be attached with staples at 300mm centres on both edges.
FEATURES
Approved to EN60335-2-96 as required by the 17th Edition Wiring Regulations (BS7671:2008)
Completely invisible & unobtrusive heating – Allows more flexibility with room layouts
Versatile heating – Suitable for new build and renovation projects
Can be used under all floor finishes
Optimum heat distribution – Using the whole floor area to radiate heat